Work in Progress
Contesting Cosmopolitan Moments in the Long Eighteenth Century.
University of Edinburgh Press (forthcoming).


"Cultures of Sensibility".
Patrick Vincent. Cambridge: Cambridge University Press (forthcoming)
.
Authored and Edited Books
Co-editor with Antoinina Bevan Zlatar, Mark Ittensohn, Olga Timofeva. Words, Books, Images, and the Long Eighteenth Century: Essays for Allen Reddick (Amsterdam: John Benjamins, 2021).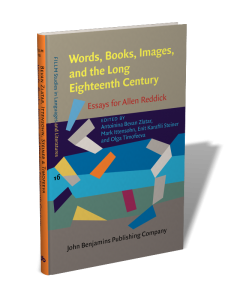 The essays collected in this volume engage in a conversation among lexicography, the culture of the book, and the canonization and commemoration of English literary figures and their works in the long eighteenth century. The source of inspiration for each piece is Allen Reddick's scholarship on Samuel Johnson's Dictionary (1755).
Editor. Cosmopolitan Endeavours. Special issue of Women's Writing. 27. 2 (2020).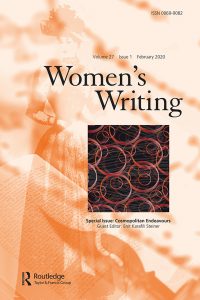 This special issues explores the concept of world citizenship, often conveyed by the titulary appellation "citizen of the world", in works by European Enlightenment and Romantic women writers, such as Sophie von La Roche, Charlotte Smith, Mary Robinson, Elizabeth Hamilton, Germaine de Staël and in the anonymous novel Woman of Colour.
Author. Jane Austen: Northanger Abbey and Persuasion. London and New York: Palgrave Macmillan, 2016.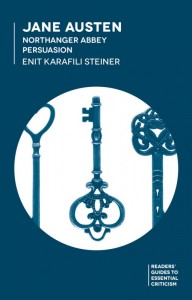 Northanger Abbey was one of Jane Austen's earliest manuscripts; Persuasion was her last. Published together in a single volume after her death, the two books differ widely. Northanger Abbey is a spirited, Gothic parody, while Persuasion has increasingly been seen as a new direction for the Austen canon. The two texts have been widely analysed and debated since publication, and continue to be so today. This Readers' Guide:
• delineates a clear trajectory through the books' many interpretations over two centuries, mapping these out thematically and chronologically
• contextualises and brings into dialogue influential approaches such as psychoanalytical criticism, structuralism, deconstruction, Marxism, New Historicism, and feminism
• discusses film adaptations of the novels and their relation to literary criticism
Reviews:
"Enit Steiner's magisterial overview of the criticism on Jane Austen's Northanger Abbey and Persuasion will be of enormous value to every reader of these novels. With clarity, perception and deep insight, she tracks the response to these two novels from Austen's contemporaries up to the present moment. The range and sophistication of her summaries of this criticism is superb."
– Anne Mellor, University of California, Los Angeles, USA
"Steiner's singular achievement is her identification of readers' critical concerns and preoccupations with the novels that ebb and flow, transform and develop, through the ages to the present, providing threads of inquiry both useful and fascinating."
– Allen Reddick, University of Zurich, Switzerland
"This timely and insightful guide is an invaluable source for teaching the history of criticism of Northanger Abbey and Persuasion."
– Annika Bautz, University of Plymouth, UK
Editor. Called to Civil Existence: Mary Wollstonecrafts' A Vindication of the Rights of Woman. New York and Amsterdam: Rodopi, 2014.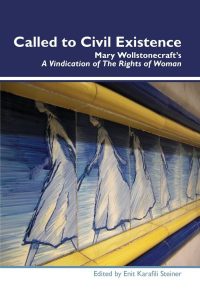 Mary Wollstonecraft's Rights of Woman (1792), a continuation of her earlier Vindication of the Rights of Men (1790), was the first feminist treatise to emerge within a broader context of liberationist human rights theory. Rights of Woman remains, however,  relevant and instructive.The essays included here show that Wollstonecraft's legacy is still with us today as the balancing act between a society where sexual distinction translates into gender prejudice and a utopian order where sexual difference ceases to be a structuring element of social, economic and political bias. Engaging Wollstonecraft's famous argument from a variety of critical perspectives, a range of contemporary scholars offer new trajectories in this volume for the study of Wollstonecraft's  historic work and its relevance to our time.
[Reviews:
Kaley Kramer (York St John University), in Women's Writing, October 2014, pp. 1-3: "Steiner's careful selection and thorough familiarity with each of the essays is evident in her discussion of each in her own introductory chapter. As well as setting out the key arguments of each contributor, Steiner brings them into dialogue, noting similarities and divergences across the collection. While this is the work of an editor, Steiner accomplishes this extremely well, resulting in a collection of 10 essays that preserves diverse research and individual voices, while maintaining a focused and unified direction. […]The Dialogue series intends to bring emerging critical voices into discussion with established literary scholars, and this collection provides a lively and rigorous forum for both established scholars and emerging critics."
Sandrine Berges (Bilkent University) in Keats-Shelley Journal 64 2015, p. 159: "Enit Karafili Steiner tells us that "women are summoned emphatically in times of crisis" (p. ix). One such current crisis besets academic philosophy, where the relative dearth of women prevents philosophy departments from achieving the sort of gender parity other disciplines take more or less for granted. (Indeed, the only other academic disciplines with fewer women than philosophy are computer science, physics, and engineering). Steiner envisions this collection of essays as part of the solution offered by the Recovery Project, which recuperates women philosophers of the past for present use by scholars of history, literature, gender, and cultural studies, as well as philosophy. […] these essays definitely cast some needed light on her immediate influence. This volume helps us understand Wollstonecraft's arguments more fully, as context often does. But perhaps just as importantly, this collection helpfully shows the rich, untapped collection of writings by Wollstonecraft's female contemporaries."]
Editor. The History of Lady Julia Mandeville. By Frances Brooke. London and New York: Routledge, 2013.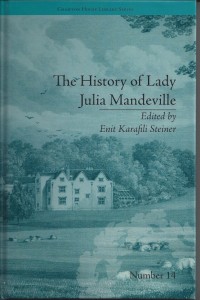 Published in 1763, The History of Lady Julia Mandeville was Frances Brooke's first and most successful novel. Prior to the publication of her own work, Brooke was well known as the translator of Marie Jeanne Riccoboni's Lettres de Milady Juliette Catesby à Milady Henriette Campley (1760). Engaging with several political and aesthetic issues of the day, Julia Mandeville considers forms of education, prescriptive gender roles and the institution of marriage. This epistolary novel contains seventy-seven letters, written predominantly by the witty widow, Lady Anne Wilmot and by the hero of the novel, Harry Mandeville. Although generally considered as a specimen of the sentimental novel, Julia Mandeville responds to and critiques the genre, displaying the influence of Rousseau's Emile (1762) and Julie (1761) as well as Richardson's Clarissa (1748). This modern critical edition offers an introductory essay on the text, endnotes, textual variants and appendices containing contemporary reviews and some of Brooke's other writing.
Author. Jane Austen's Civilized Women: Morality, Gender and the Civilizing Process. London and New York: Routledge, 2012.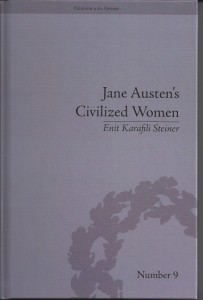 Jane Austen's six complete novels and her juvenilia are examined in the context of civil society and gender. Steiner's study uses a variety of contexts to appraise Austen's work: Scottish Enlightenment theories of societal development, early-Romantic discourses on gender roles, modern sociological theories on the civilizing process and postmodern feminist positions on moral development and interpersonal relations. Austen is presented as a writer who not only participated in late eighteenth-century debates, but who is able to address twenty-first-century concerns of a theoretical and practical nature.
[Reviews: Wendy O'Brien, Cercles: Revue Pluridisciplinaire du Monde Anglophone, 2013; Paul J. deGategno, "Women as Serious Agents," Jane Austen Society of North America (JASNA), (Summer 2013); Gillian Dow, British Association of Romantic Studies (BARS) Review 44 (Autumn 2014)]
Fiction
Dhunë e Dhunti (Of Gifts and Violence). Tirana: Botime Pegi, 2017.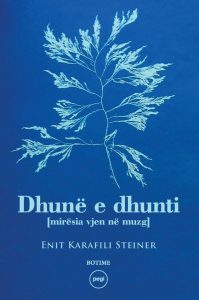 The Keeper of Lost Things (Original Title: Tokëmjalta). Tirana: Botime Pegi, 2015.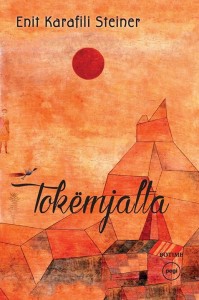 "This novel by Enit Karafili Steiner rises as a dramatic pronouncement against the flow, setting out from the utterly unexpected premise that the good is as omnipresent as the soil; hence, we need not strive to import it, but rather pledge to shelter and nourish it; while evil cannot resist reformation, on the condition that we, like the novel's characters, remain faithful to each other without compromise until the end." – Ardian Vehbiu.
Translation
Krenari dhe Paragjykim. By Jane Austen. A translation with critical introduction and notes. Tirana: Toena, 2008.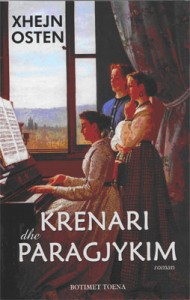 This translation of Jane Austen's Pride and Prejudice is the first critical edition of the novel in Albanian, offering an introduction and explanatory notes. It won the Ada Editing House "Award for Outstanding Translation" in 2010.
Articles, Book Chapters and Reviews

"Mary Wollstonecraft." Research Companion to Romantic Women Writers. New York and London: Routledge, 2022. 521-534.
Review of: Jane Austen's Men: Rewriting Masculinity in the Romantic Era by Sarah Ailwood.

34

.

1

(2022):

266-8

.
"Autonomy Will Set You Free, or Will it?  Autonomy, Precarity, and Survival."  Jane Austen and Critical Theory. Ed. Michael Kramp. London: Routledge, 2021).  108-124.
"Lessons of Skin: Solidary Cosmopolitanism." Cosmopolitan Endeavours. Special issue of Women's Writing. 27. 2 ( 2020): 46-62.
"Introduction: Cosmopolitanism as a Practicable Orientation." Cosmopolitan Endeavours. Special issue of Women's Writing. 27. 2 ( 2020):  1-10.
"Mary Wollstonecraft's 'Love of Mankind' and Cosmopolitan Suffering". Studies in Romanticism (2019): 3-26.
"Mood, Provisionality, and Planetarity in Mary Wollstonecraft's A Short
Residence in Sweden, Norway, and Denmark." Criticism 61.1 ( 2019): 27-50.
"'Not to Abandon the Whole': Cosmopolitanism and Management in The Travels of Abu Taleb Khan." European Romantic Review 29.5 (2018): 657-680.
Review of: Brant, Clare. Balloon Madness: Flights of Imagination in Britain, 1783-1786. Woodbridge: Boydell Press, 2017. Romantik: Journal for the Study of Romanticisms 7 (2018): 169-171.
"Expanded, Changed, but Not Weakened: Post-Human Prometheanism and Race in Octavia Butler's Xenogenesis." The Challenge of Change: Swiss Papers in English Literature and Linguistics. 2018: 123-142.
"'Till He Began to Stagger Her': Melancholia and Literary Men." Jane Austen and Masculinity. Ed. Michael Kramp. Lewisburg, PA: Bucknell University Press, 2017. 113-28.
"Overcoming Perpetual Estrangement in Persuasion's Heterotopia." Anglia: Journal of English Philology 134. 3 (2016): 373-390.
"Romantic Education, Concealment and Orchestrated Desire in Rousseau's Emile and Frances Brooke's Julia Mandeville." Rousseau, Switzerland, and Romanticism. Ed. Angela Esterhammer, Patrick Vincent and Diane Piccitto. New York and London: Palgrave, 2015. 21-37.
"Between Cohesion and Reform in Sense and Sensibility." Women's Writing 22.4 (2015): 455-471.
"Exuberant Energies: Affectivity in Vathek, Zofloya and The Giaour." Emotion, Affect, Sentiment: Swiss Paper in English Literature and Linguistics (2014): 125-142.
"Introduction." Called to Civil Existence: Mary Wollstonecrafts' A Vindication of the Rights of Woman. Ed. Enit Karafili Steiner. New York and Amsterdam: Rodopi, January 2014. ix-xxiv.
"Introduction." The History of Lady Julia Mandeville, by Frances Brooke. Ed. Enit Karafili Steiner. London and New York: Routledge, 2013. xi-xxiv.
"Images of Masculinities and the Feminist Inflection." Männlichkeiten denken. Ed. M. Laubli and S. Sali. Bielefeld: Transcript, 2011. 219-38.
"Bodies Playing on the Boundaries in Austen's Juvenilia." Figurationen: Körpergrenzen/Body Boundaries. Ed. Therese. F. Steffen. Cologne, Weimar and Vienna: Böhlau Press, 2011. 61-72.
"Byron and the Albanians: Unearthing Identities." Studia Albanica 2. Tirana: Académie des Sciences Sociales (2010): 137-147.
Review of: Karen O'Brien, Women and Enlightenment in Eighteenth-Century Britain. Cambridge. Cambridge University Press, 2009. Variations (2010): 160-161.
"Jane Austen: A Woman's Place in the Civilizing Process." Clark Memorial Library Newsletter 45 (2007): 5-6.
"Xhejn Osten: Prozatorja britanike që barazohej me Shejkspirin." (Jane Austen – the Shakespeare of prose) Telegraf. 5 Februar. Tirana (2007): 15-17.
"Harmoni dhe Zgjim." (Harmony and Awakening) Telegraf. 26 März. Tirana (2007):16.
"Le carrefour mussetien: entre idéal et corruption. Le motif du masque dans l'œuvre d'Afred de Musset." (Master Thesis, Zürich, 2003).