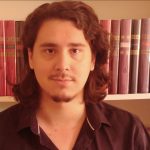 Philip Lindholm, Doctoral Assistant in Modern English Literature (Assistant-diplômé) 2012-2018
PhD project: Synaesthesia in the Literature of British Romanticism
My doctoral thesis investigates literary 'synaesthesia' (literally 'union of the senses', from the Ancient Greek σύν, syn, 'together', and αἴσθησις, aisthēsis, 'sensation') – loosely defined as the use of the terminology of one sense to describe the sensation of another – in a selection of texts of the Romantic period, an age which witnessed the emergence of the sciences of the mind and the refashioning of the study of consciousness and cognition along increasingly physiological lines. I maintain that synaesthesia, the transnotation or conflation of sensation first given a scientific foundation by Newton in Opticks (1704), is particularly revelatory of Romanticism's investment in what Noel Jackson has called an 'embodied aesthetical response', or what Alan Richardson has termed the acceptance of 'human material embodiment'. Given the interest of Romantic poets in contemporary developments in the sciences, in particular the phenomenon of 'coloured hearing' which Erasmus Darwin discusses in The Botanic Garden, it is necessary to distinguish between neurological synaesthesia, in the automatic, real-life, perceptual sense, and synaesthesia as poesis, which usually takes the form of intersense analogy or cross-sensory metaphor where perceptions from two different sensory modalities are blended together, for effect. My project examines why the latter is most prevalent in the poetry of the early nineteenth century, an age where, paradoxically, medical and scientific discourses are marked 'not by a confluence of the senses but by a greater discrimination among them', as Richardson points out. My research examines the creative potential of synaesthesia in the particular context of the emerging nineteenth-century sciences of the mind, which paradoxically fostered, according to Robert Jütte, the separation of the sensory faculties because 'new methods and instruments' allowed for 'finer measurements of and sharper differentiation' among the senses.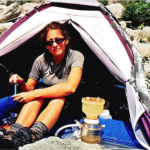 Rachel Nisbet, Doctoral Assistant in Interdisciplinary Studies (Assistant-diplômé, Section d'Anglais) 2011-2018
PhD project: Rivers, Navigating Doubled Terrain: connecting literary and geological texts
My doctoral thesis investigates the period during which rivers became regulated by hydrological science (1798 – Present). This timeframe has recently been defined as the Anthropocene: an era demarcated by human-induced climate change, and reduced bio-diversity (Crutzen and Stoermer, 2000, pp. 16-17). Wordsworth's Prelude was first drafted just as rivers began to be dammed in 1798. Subsequently, 48,000 large dams have been built, and we have drained half the world's wetlands (Gaffney, 2013, online). By offering readings of The Prelude, together with George Eliot's Daniel Deronda, Joyce's Finnegans Wake, and Alice Oswald's Dart, I aim to follow how rivers flow into narratives that offer different versions of 'earth ethics'. My readings focus on the voices adopted by the river guides in the above narratives, and the physical qualities of the waterways with which they intercourse. I propose that an emphasis on the acoustic sphere sets the reader in medias res, thereby challenging the remote gaze promoted by the visual aesthetics of the picturesque, and bringing embodied, ethical responsibility to the fore. This project connects my long-standing interests in English literature, climate change and (palaeo-)ecology. I hold a BSc in Geology and Applied Geology from Glasgow University, a BA (First-Class Hons.) in 'Humanities with Literature' from the Open University, and a Docteur-ès-sciences in Geology from Neuchâtel University.
Amy Player, Doctoral Candidate (Section d'Anglais, from 2013)
PhD project: Border Crossings and Hybridity in New British Nature Writing
My doctoral thesis investigates the literary phenomenon of 'new nature writing', which has come into prominence in recent years. Through my reading of selected texts by Robert Macfarlane, Jay Griffiths and Kathleen Jamie, I will consider their work in relation to past nature writing by examining what their writing takes from the past and what, if any, 'newness' there is in their respective approaches. I aim to consider how their responses are suited to the particular conditions of our times, and address what the genre's popularity might reflect about our contemporary relationship with the natural world in the age of the Anthropocene. I will examine how these three writers help push towards new ways of thinking about this relationship, considering how they expand the horizons of what writing about nature should involve and include today and open up perspectives and ways of seeing that are increasingly hybrid in scope. My thesis will look specifically to this notion of hybridity, considering how their writing blurs boundaries between the human and nonhuman, and broadens the possibilities of language in order to offer alternative ways of knowing and thinking about nature. The focus on multifarious perspectives and shifts in scale, the incorporation of ex-centric 'voices', and the attention to dynamic and diverse 'natural' locations in their writing provide new approaches to the dualisms that have often framed the way we think about the natural world. Through their reflections on questions of nature and culture both within a local and global context, I argue that their considerations open up crucial dialogues within the greater environmental consciousness, and thus offer timely and urgent narratives for our current state of international ecological crisis.
Completed PhD primary supervision (University of Sheffield)
Marcus Nevitt, Early Modern Women's Writing (completed 2001; is now Senior Lecturer in Renaissance Literature at University of Sheffield)
Julie Scanlon, Contemporary Women's Fiction and Feminist Theory (completed 2003; is now Senior Lecturer at Northumbria University)
Brendan Stone, Contemporary Autopathography and Narrative Theory (completed 2004; is now Professor at University of Sheffield)
(MPhil) Representations of Subjectivity in African-American Women's Writing (completed 2001)
Jennifer Adams, Magic Realism and Holocaust Fiction (completed 2010; appointed Lecturer in Modern Literature at University of Sheffield, 2010)
Mervat Al-Jomaa, Crossover Literature, Psychoanalytic and Reader Response Theory (completed 2010; is now University Lecturer in Syria)
Yi Yin Lee, Space and Identity in Young Adult Literature (completed 2010; is now University Lecturer in Taiwan)
Completed PhD secondary supervision (University of Sheffield)
Holocaust Literature, completed 2002
Theories of Agency in Bakhtin and Queer Studies, completed 2001
Internal PhD examining (University of Sheffield)
Trauma, Utterance and Patterns in Holocaust Survivor Testimony, 2008
Poetry of John Berryman, 2008
European, Inter-War, Lesbian and Gay Fiction, 2006
The novels of W.G. Sebald, 2005
External PhD examining
Karian Schuitema, 'Children's Theatre in the UK: Representing Cultural Diversity on Stage Through the Practices of Interculturalism, Multiculturalism and Internationalism', University of Westminster, London, April 2012.
Susanna Gebhardt, 'Early Modern English Wall-Writing: Memory and Textual Culture', University of Geneva, January 2013.