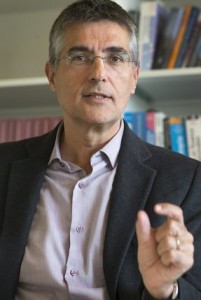 Philippe Bacchetta is Swiss Finance Institute professor of macroeconomics at the University of Lausanne.
He received his Ph.D. and M.A. in economics from Harvard University and his B.A. and M.S. in economics from the University of Lausanne. From 1998 to 2007, Philippe Bacchetta was director of the Study Center Gerzensee, a foundation of the Swiss National Bank. He has also been an assistant professor at Brandeis University, USA, and at ESADE and the Instituto de Análisis Económico, both in Barcelona. He has been visiting professor at the Graduate Institute in Geneva, the Paris School of Economics, the University of Geneva, the University of Freiburg (Germany), the Universitat Pompeu Fabra, the Universitat Autonoma of Barcelona, and CEMFI in Madrid. He has been visiting scholar at Harvard University, the IMF and the NBER and an academic consultant at various central banks. He is a fellow of the European Economic Association and has been Program Director of the International Macroeconomics and Finance program of the Centre for Economic Policy Research (CEPR, London), president of the Swiss Society of Economics and Statistics, and a member of the Swiss National Research Council. In 2011 he was awarded an Advanced Researcher Grant by the European Research Council.
His research interests include open economy macroeconomics, international finance, financial crises, and monetary economics.
Discover his publications and contributions in the media.
Contact
Faculty of Business and Economics, Internef 523, University of Lausanne, CH-1015 Lausanne, +4121 692 34 73, philippe.bacchetta@unil.ch
What's New