Coming up in the Autumn of 2017:
Nov. 30th, 5:00 – 6:30 p.m. in 5196
Talk and concert by Will Kaufman on Woody Guthrie and racism
"The Long Road to Peekskill"
http://www.willkaufman.com/woody-guthrie-the-long-road-to-peekskill.html
THE LONG ROAD TO PEEKSKILL presents the story of Woody Guthrie's personal transformation from a youthful Oklahoma racist to the ardent anti-racist champion who, along with many others, risked his life holding the line against American fascism during the notorious Peekskill riots of 1949. Conventionally known for his championing of the poor white Dust Bowl migrants, Guthrie also left an extensive body of songs condemning Jim Crow segregation, lynching and race hatred. Most of these songs were never recorded, but they are the legacy of this remarkable journey that eventually brought Guthrie into the fellowship of Lead Belly, Josh White, Sonny Terry, Brownie McGhee and Paul Robeson. The Long Road to Peekskill is both a harrowing and uplifting presentation, showing through the example of Woody Guthrie that racists are not born, but made – and that they can be unmade.

Previous lectures
April 21, 2015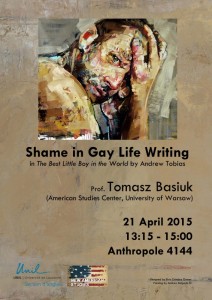 April 22
March 24, 10-12 :
Matilde Martin (Universidad de la Laguna, Tenerife), "Asian American Literature"
April 22, 13-15: Tomasz Basiuk (American Studies Center, University of Warsaw), "Shame in Gay Life Writing"
May 7: William Kaufman (University of Central Lancaster), "The Long Road to Peekskill," Concert and lecture about Woody Guthrie and Civil Rights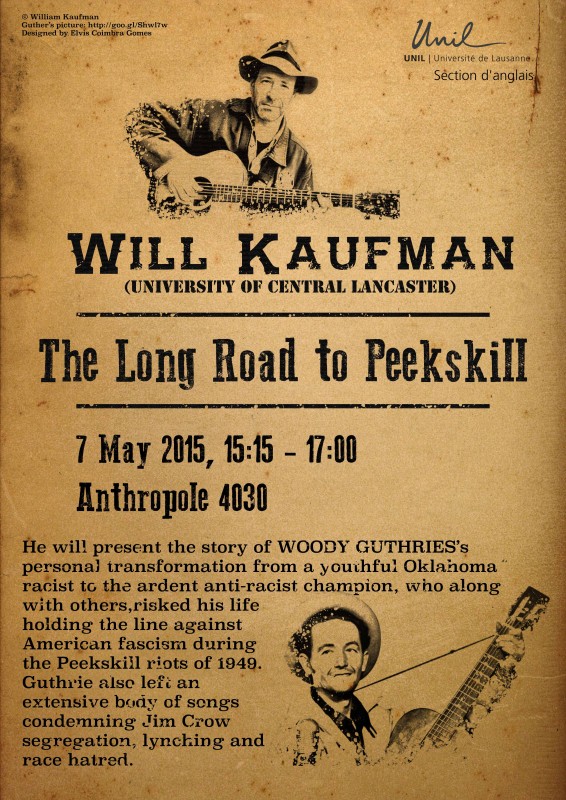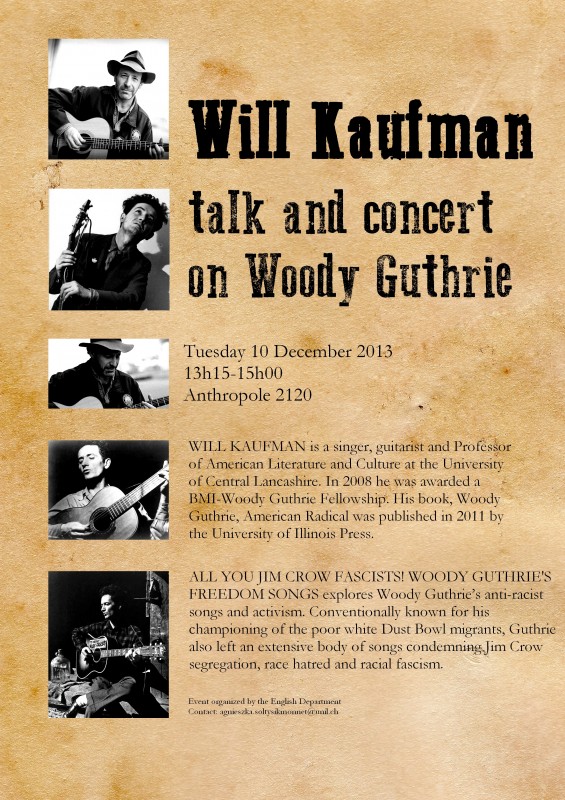 RECENT LECTURES in the English Department
Workshop on Postfeminism – Spring 2014 (Université de Lausanne)
March 20: Angela McRobbie: "What is at stake in the feminist politics of affect?"
March 21: Rosalind Gill: "Postfeminism, Power and Intimacy"
November 13, Judith Butler: "Is Gender Untranslatable?" (Anthropole 2024, 17:00)
Nov. 22: Maisha Wester, "Beloved and the African American Gothic" (Anthropole 2013), 3:15 p.m.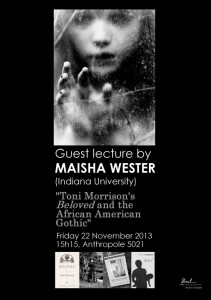 December 13: Teresa Goddu, "Slave Narratives and the American Gothic" (Anthropole 5081, 13:15-15:00)