No upcoming lectures for the moment (Spring 2021)
Recent Lectures:
Oct. 19, 12:30 p.m.: Dr. Mathieu Donner on Octavia Butler and Posthumanism (link to this event by request only)
The American literature and culture branch of the department is pleased to invite you to the following events that are happening this semester:
March 5, Thursday, 16:15-17:45 (ANT 5196): Prof. Ewa Lukacz (University of Warsaw) will give a talk in the research seminar series, titled "Making of Americans: Charlie Chaplin, Harvey Kellogg and the Science of Eugenics"
May 12, Tuesday, 14:15-15:45 (ANT 4173)
:
Rik Palieri
(Independent Folk Musician and Author) will give a musical performance and talk about
American folk music,
with a special emphasis on the influence of African American musicians and instruments. For more info:
https://rikpalieri.com
Recent Lectures:
May 1: Ulla Haselstein (Free University, Berlin) on Gertrude Stein
March 21, 17:15: David Schmid (SUNY Buffalo): Crime Narratives in the Age of Trump (ANT 2064)
March 22, 17:15: Popular Cultures of Violence (Geopolis 2879)
March 23, 16:00 : Mishuana Goeman: Turning the Spectacle, Imagining Indigenous Futures, Killing the Colonial Past (5033)
May 1: Ulla Haselstein (Free University, Berlin) on Gertrude Stein
Previous lectures:
Peter Price, Dec. 18 at 12:15, 5125 on the death of the hippie: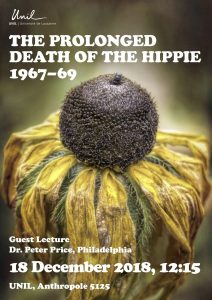 Will Kaufman, Oct. 15th at 1:15 at 3032: on Woody Guthrie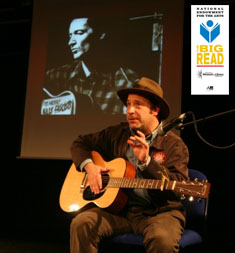 Nov. 22nd: Guest lecture by Dr. Julia Straub from the University of Bern, on 'Cultural Memory and its (New) Media in Early America'
1:15-2:45 in Anthropole 2064
This lecture is based on Julia's new book, which explores transatlantic literary culture by tracing the proliferation of 'new media,' such as the anthology, the literary history and the magazine, in the period between 1750 and 1850. The fast-paced media landscape out of which these publishing genres developed produced the need of a 'memory of literature' and a concomitant rhetoric of remembering strikingly similar to what today is called a cultural memory debate. Thus, rather than depicting the emergence of an American national literature, The Rise of New Media(1750–1850) combines impulses from media history, the history of print, the sociology of literature and canon theory to uncover nascent forms and genres of literary self-reflectivity and early stirrings of a canon debate in the Atlantic World.
AND
Nov. 30th, 5:00 – 6:30 p.m. in 5196
Talk and concert by Will Kaufman on Woody Guthrie and racism
"The Long Road to Peekskill"
http://www.willkaufman.com/woody-guthrie-the-long-road-to-peekskill.html
THE LONG ROAD TO PEEKSKILL presents the story of Woody Guthrie's personal transformation from a youthful Oklahoma racist to the ardent anti-racist champion who, along with many others, risked his life holding the line against American fascism during the notorious Peekskill riots of 1949. Conventionally known for his championing of the poor white Dust Bowl migrants, Guthrie also left an extensive body of songs condemning Jim Crow segregation, lynching and race hatred. Most of these songs were never recorded, but they are the legacy of this remarkable journey that eventually brought Guthrie into the fellowship of Lead Belly, Josh White, Sonny Terry, Brownie McGhee and Paul Robeson. The Long Road to Peekskill is both a harrowing and uplifting presentation, showing through the example of Woody Guthrie that racists are not born, but made – and that they can be unmade.

Previous lectures
April 21, 2015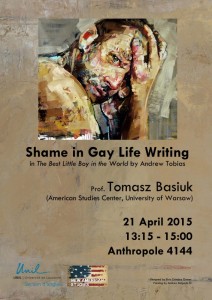 April 22
March 24, 10-12 :
Matilde Martin (Universidad de la Laguna, Tenerife), "Asian American Literature"
April 22, 13-15: Tomasz Basiuk (American Studies Center, University of Warsaw), "Shame in Gay Life Writing"
RECENT LECTURES in the English Department
Workshop on Postfeminism – Spring 2014 (Université de Lausanne)
March 20: Angela McRobbie: "What is at stake in the feminist politics of affect?"
March 21: Rosalind Gill: "Postfeminism, Power and Intimacy"
November 13, Judith Butler: "Is Gender Untranslatable?" (Anthropole 2024, 17:00)
Nov. 22: Maisha Wester, "Beloved and the African American Gothic" (Anthropole 2013), 3:15 p.m.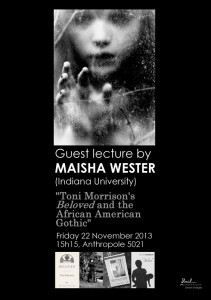 December 13: Teresa Goddu, "Slave Narratives and the American Gothic" (Anthropole 5081, 13:15-15:00)